Cleaning Out Flood Damage in Your Mt Airy Residence Makes it Livable and Safe Again
7/12/2018 (Permalink)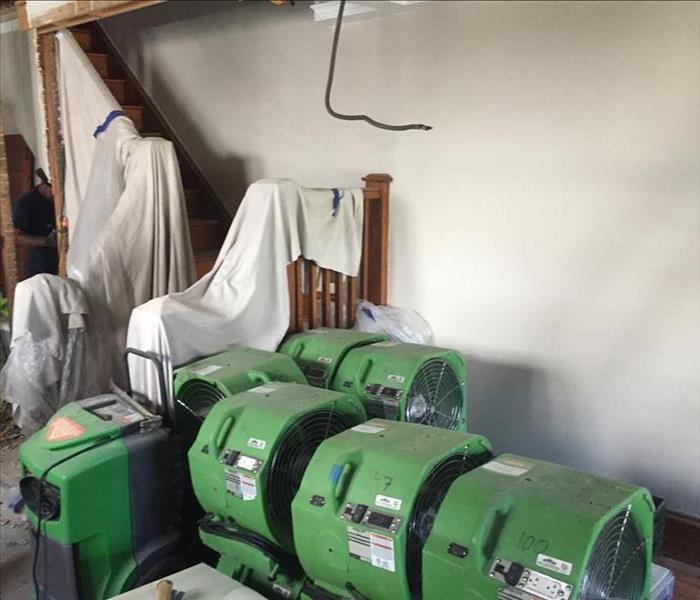 Count on SERVPRO to Supply Heavy Duty Equipment for Storm Damage Cleanup in the Mt Airy Neighborhood
Water Damage Mitigation Is Crucial after a Storm
Floodwater smells really bad, and even after leaving, the odor only seems to get worse. Before a flood strikes in or near Mt Airy, homeowners often try to save more valuable items in their homes by placing them in higher locations. Later, we often find that this act of preparation continues to benefit homeowners because we can more easily work in areas directly affected by the flooding.

Once a Mt Airy home sustains flood damage, SERVPRO crews work fast to get things right again, "Like it never even happened." Accomplishing this takes time and teamwork. Our IICRC- certified technicians ensure that water damage, microbial infestation, and other situations remain under control during the process of mitigating flood damage.

The amount of time to air out and completely dry your home after a flooding event depends on how much water absorbed into porous materials, and how warm we keep your home's interior. Although we extract as much water as possible in the initial stages, many times making more than one pass during this phase, absorbent materials can retain moisture. The air can also become saturated with water vapor. Higher heat means the air can hold more moisture, which we then force outdoors. Continually doing this slowly but steadily dries out your home's interior walls, floors, and air.

Dehumidifiers can work for small floods, such as an accident involving an overflowing sink, but for massive flooding, desiccant machines work more effectively. These machines can help eradicate areas of microbes left over by drying them out, although SERVPRO also uses air scrubbers. These remove any microbes or dust found in the air. Once dry, our crew members start cleaning surfaces to ensure everything becomes clean again and safe to touch. Odors also get treated through various methods, ensuring your home also smells like it should.

SERVPRO of Manayunk wants to make your flooded home livable again by mitigating flood damage. Being kept out of your home by disasters can seem like a never-ending nightmare, but we are here to help. If your home is in the Germantown or Andorra areas, call us at (215) 482-0800.
Visit the Philadelphia neighborhood right here.