Preparing for Rebuilding after Fire Damage in Mt Airy
2/25/2018 (Permalink)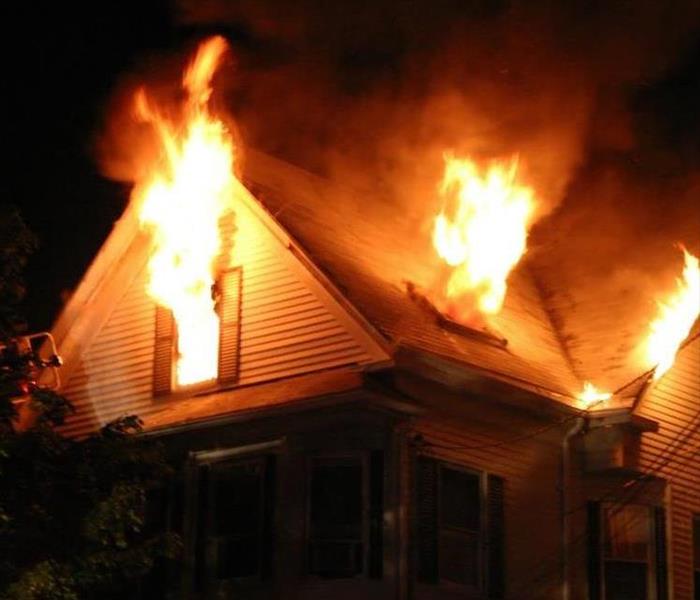 Fire damage can be devastating. Contact SERVPRO for remediation and restoration services. You will be very pleased with the results.
Professional Restoration Technicians can Help You Immensely After a Fire
Fires happen often enough that even smaller communities like Mt Airy know the importance of running a fire department even when shared with another locality. However, this type of tragedy happens seldom enough that many homeowners remain wholly unprepared for the amount of damages that ensue after even a small blaze. The area affected by the flames may seem small, but the smoke and ash rarely remain stationary.

Homes can experience fire damage in Mt Airy from a multitude of different causes. Every area of the home can fall victim to fire, as well, meaning smoke can travel throughout a home's entire interior. Before your family can return to their normal lives, you need to have your home's damaged areas rebuilt. SERVPRO helps families by speeding up this process and reducing costs by preparing the home for the needed repairs.

When we cut materials such as drywall away from sections of walls or ceilings, we always do so in a precise manner. It is easier to repair the materials in your home when the removed areas occur in a straight line, without any jagged or wavy edges. In addition to tearing out charred areas of walls and other materials, we clean the surfaces and areas covered in soot, ash, and smoke residue, repainting where necessary, to help facilitate the restoration process, from start to finish.

The act of cleaning surfaces often reveals areas that seemed damaged but, once cleaned, we discover that only minimal repairs can restore that area, instead, negating the need for replacement materials. This saves homeowners on both labor and materials costs and further reduces the time involved.

Because new materials do not suffer from smoke penetration, our Odor Control Technician (OCT) does not need to wait until just before your family returns home. We can eliminate the odor-causing particles from the areas infiltrated by smoke particles before restoration work commences. This also benefits those workers providing those services by ensuring a clean environment while they work.

SERVPRO of Manayunk wants to help homes with fire damage receive the restoration work needed so families can return home safely and quickly. We serve the same communities we live in and are proud to help those in the Roxborough and Andorra areas and surrounding communities. Call us at (215) 482-0800 at any time, day or night, year-round, for professional, skilled help when your family faces fire damage.

For more information regarding Mt Airy, click here.