Why Team SERVPRO Arrives at Your Chestnut Hill Business Location for Water Damage Remediation With Additional Tools
10/1/2018 (Permalink)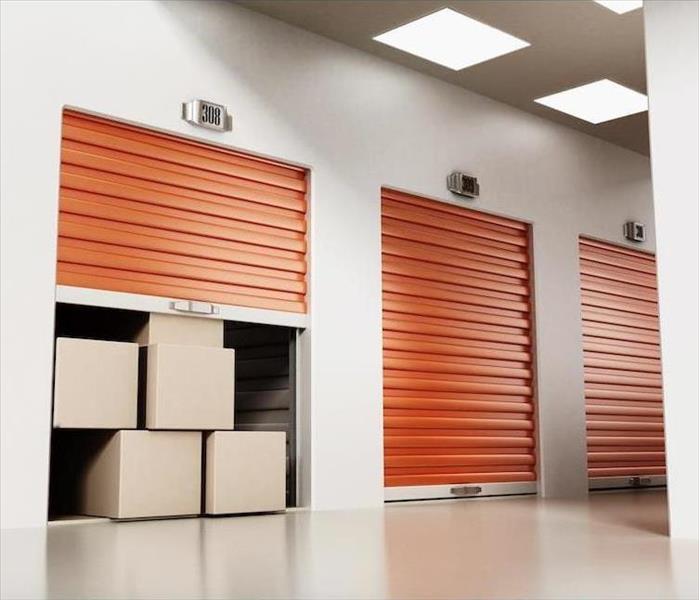 Whether your business is a storage facility or something else, excess water from an accident or incident needs to be quickly removed. Contact SERVPRO.
The Right Equipment Eases Commercial Water Cleanup in Chestnut Hill
A case of water damage in your business is not only inconveniencing but may also require considerable effort to restore the property back to preloss conditions. This is especially the case if the right equipment is not available during restoration. Many people only think of the larger appliances such as water extractors, however even lack of small tools can complicate simple jobs or lead to unexpected damages after using the wrong ones. With our professional cleanup services, you do not have to worry about lacking resources because our technicians are well equipped.

The kind of equipment needed for commercial water cleanup in Chestnut Hill varies depending on what is affected. If yours is a storage facility, you have different requirements compared to someone whose office with a wall-to-wall carpet is affected by the water loss. The number of people that visit your premises on a given day might also determine what resources are needed. In a frequently visited place, you might want to isolate the loss areas, so accessories such as wet carpet signs are necessary to keep visitors from ruining your work.

The main issue after a case of water loss is moisture, which if left unaddressed, leads to microbial growth and bad odor. Although it is the big equipment such as dehumidifiers and air movers that help deal with the moisture, small tools like pry bars are needed to remove baseboards and other structural components for easier removal of the moisture in hidden spaces. Our SERVPRO technicians have vans well-stocked with different tools in anticipation of the different types of problems.

In some workplaces, it might not be possible to stop the water source immediately especially when it is a big leak. It might also be impossible to move items from the affected area to prevent further damage. Our SERVPRO technicians use heavy duty plastics to shield essential contents from further damages in such cases.

Lack of equipment should not complicate restoration after water loss. Call SERVPRO of Manayunk at (215) 485-0800. We're Faster To Any Size Disaster.

Click here for more information on the city of Chestnut Hill.